The Common Application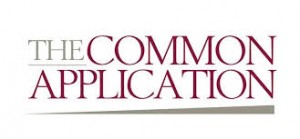 Applying for college this year?  Congratulations!  You have a new best friend.  It's called the Common Application (www.commonapp.org) and its sole purpose is to make your life easier during these stressful months of preparing for your next stage in life.  You've made it to your final year of high school, written your exams and even picked a few colleges you could imagine spending your next four years at.  Now comes the laborious part of actually filling out the applications and convincing the colleges of your choice that they think that you are a good fit for their school.  Thanks to the Common Application, you only need to fill out one application for all your college choices.
So what exactly is The Common Application?  In their own words, "The Common Application is, a not-for-profit membership organization that, since its founding over 35 years ago, has been committed to providing reliable services that promote equity, access, and integrity in the college application process."1  Put simply, it is a standardized undergraduate college application which, is now accepted by 456 U.S. colleges (private and public).  It can be used by both first-year students and transfer students.   Some colleges are using this service exclusively, while others give the applicant a choice between using the Common Application or the school's own application.  The Common Application and the school-specific applications are regarded as equals, so you don't need to worry that one will get preference over the other.  You can complete the Common Application on-line and submit it electronically, or if you prefer, you can download hard copies and send them in the mail.  It is a secure, comprehensive, time-saving system for college applicants.
Of course, the first question is how does it work?  The Common Application is a refreshingly straightforward procedure.  You will need Adobe Reader on your computer in order to download the forms and that's all.  You can print off the forms if you like, but the real benefits of this system come by filling out your forms on-line, saving you time by only needing to provide your information once.  You can stop and start and even change your information as necessary without losing your application.  There are downloadable forms for your vital statistics, art supplements, athletic supplements, teacher evaluations and school reports.  Many colleges require an additional supplement specific to their institution, and you can download the form for those as well on the Common Application website. It really is a one-stop shop.
While saving you time and preventing writer's cramp are attractive benefits of the Common Application, there are many more good reasons to use this system when applying to colleges.  According to the Peterson's College Search website, "Member schools of the Common Application organization are allowed membership only if they adhere to a holistic applicant evaluation process."2   The Common Application is not just about test scores and school reports.  You get the opportunity to clearly portray details about yourself, your life, your personal situation and any other important factor a college may use to see if you are a good fit.  If that isn't good enough reason to use the Common Application Peterson's College Search website also suggests that, "As an added bonus, several dozen of these schools will reduce or waive their application fees if you apply online."3  What's not to love?
If you're still not confident that the Common Application forms you submit will get you into the college of your dreams, you may wish to consider using the college-specific application for your top 2 or 3 choices.  "Doing this shows that you care enough to customize your application to those schools." 4  Another important thing to remember when sending off your applications is to submit them on time.  Each school has varying application deadlines depending on how you choose to apply, but fortunately, the Common Application website provides a comprehensive grid listing all the deadlines for all their member schools so you don't have to visit each school's website.  Dates to bear in mind are August 1st when the Common Application goes live each year, and July 15th when they reset all their information and anything pending is wiped clean.
There seem to be very few disadvantages to using the Common Application.  It is a well-respected, widely-used, reliable system that "allows you to spend less time on the busywork of applying for admission, and more time on what's really important: college research, visits, essay writing, and senior year coursework."5
References:
1The Common Application Mission. Commonapp.org (22/08/11)
https://www.commonapp.org/commonapp/Mission.aspx
2A College Application That's Easy to Access. Peterson's College Search. (22/08/11)
http://www.petersons.com/college-search/common-application-college.aspx
3ibid
4Applying to College: Common, Universal College, and Individual Applications. Ecampus     Tours.com. (22/08/11)
http://www.ecampustours.com/collegeplanning/applyingforcollege/collegeapplications
5 The Common Application FAQs. Commonapp.org (22/08/11)
https://www.commonapp.org/CommonApp/FAQ.aspx