What is College Fit?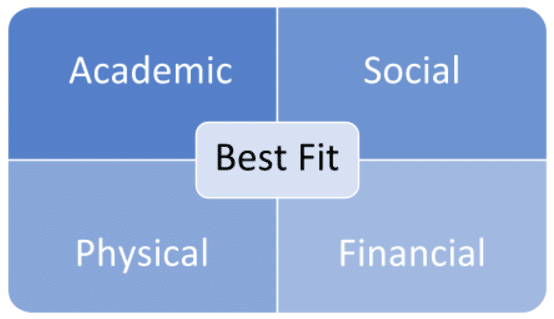 You have probably heard this term a lot already. Your counselor talks about it, your parents are looking for it.  What is it?  What is college fit?
Think of fit as a picture of college that brings four elements together to make the best fit for you. Consider Academic, Social, Physical and Financial perspectives. YOUR best fit will not look like your best friend's or your older sibling's.  Find the right combination that will make your college experience meaningful for you.
Start a conversation with EduPlan for each school you are interested in. Go on your EduPlan Portal and start looking for colleges, and let's discuss options! Within our system, you will have an area for each school where to record your thoughts on why a school is a good fit for you. Be sure to mention each of the four areas of fit:
Academic
Social
Physical
Financial
Your parents can join the conversation and add their thoughts too. Remember, it's a team process!